This is Part 2 of a series on This I Used to Believe.
How can the same person be so good at evangelism, and also so bad at it?
Let's look at the good first:
The radio show This American Life aired an episode called This I Used to Believe. The segment "Team Spirit in the Sky" begins with a description of a most unusual football game in which a coach at a Christian high school got his team's fans to cheer… for the other team! Chances are good you've read about it, because this story went viral on the Internet: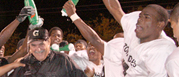 Had you read that before? Well here's a local television news report I hadn't seen:
This coach did an amazing, Christ-like thing, and was recognized for it. Sort of "How Would Jesus Coach," isn't it? I would like to learn what you thought:
What was your reaction to reading/seeing this?
I have been loosely calling this evangelism. Is it?
What image does it paint of God?
Does it help repair the image of Christ's followers? Is that important?
Please weigh in with your thoughts about any of the above.
(In part 3 I'll look at the bad: How this same coach botched not one but two evangelistic opportunities.)
This I Used to Believe series: